Tropical Storm Nicholas hits Texas coast with heavy rain after making landfall as hurricane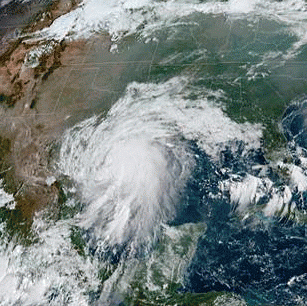 Nicholas made landfall on the Texas coast as a Category 1 hurricane early Tuesday, with 75 mph winds and threatening to bring up to 18 inches of rain to parts of the state, forecasters said.
It was downgraded to a tropical storm at 5 a.m. ET Tuesday but still had the power to cause "life-threatening flash floods in the deep south in the next couple of days," the National Hurricane Center said.
Harris County, which includes Houston and is one of the most populous counties in the country, was braced for severe rainfall and disruption, with warnings of possible flooding in the county's southeast.
The same flash flood warning covered parts of Brazoria County, Chambers County and Galveston County, where heavy rainfall continued to fall overnight.
A storm surge warning was also issued by the National Weather Service early Tuesday along the Texas coastline from Sergent to Sabine Pass, including Galveston Bay.
More than 320,000 customers were without power in Texas, in addition to 95,000 in Louisiana, just after 4 a.m. ET, according to poweroutage.us.
Download the NBC News app for breaking news and politics
Nicholas made landfall about 12:30 a.m. local time (1:30 a.m. ET), on the eastern part of the Matagorda Peninsula, about 10 miles west-southwest of Sargent Beach, the NHC said.
Video showed flooding in Matagorda, and Bay City recorded a 59-mph gust Monday night, forecasters said.
In Houston, where a large number of flights were canceled, officials had earlier urged everyone to be off the streets by nightfall.
Pop star Harry Styles postponed Monday night's planned concert at Houston's Toyota Center, which Mayor Sylvester Turner said underscored the gravity of the storm. Houston's school district canceled classes for Tuesday because of weather.
"Safety must take priority, so please go home and be safe," Styles tweeted about the concert.
Hurricane warnings were in place from Port O'Connor to Freeport, which is on the coast south of Galveston, early Tuesday and a hurricane watch extended to San Luis Pass.
Tropical storm warnings covered from north of Port Aransas to Port O'Connor and from around Freeport to the Louisiana border, and a storm surge warning was in place from Port O'Connor to Louisiana.
Rainfall rates could be 3 to 4 inches per hour under the heaviest rain bands. Infrastructure has a tough time dealing with such intense rainfall rates, likely leading to significant flash flooding especially in urban areas.
Officials urged people to never drive through floodwaters, especially at night, which is often a cause of drownings following storms.
Ahead of landfall, Gov. Greg Abbott issued an emergency declaration for 17 counties in the storm's path.
"Texans throughout the Gulf Coast should prepare now for the impact of Tropical Storm Nicholas, which is expected to bring severe rain and flooding to these communities," Abbott said in a press release.
Turner, the Houston mayor, said rain posed the biggest threat to the city and requested that motorists be off the roadways by nightfall.
Turner advised anyone driving to turn around instead of driving through high water or past a street barricade. "They're there for your protection," he said.
United and Southwest Airlines canceled all flights out of Corpus Christi International Airport for 24 hours due to "deteriorating weather conditions," a city spokesperson said in a press release.
The flood threat then shifts into Louisiana on Tuesday and Wednesday, including for areas still cleaning up from Hurricane Ida.
Storm total rainfall through midweek could be extreme in some cases. For the middle and upper Texas coast, 6 to 12 inches, with isolated maximum amounts of 18 inches possible, the hurricane center said. Across the rest of coastal Texas into southwest Louisiana, totals could be 4 to 8 inches with locally higher amounts.
Life-threatening storm surge will also be possible for parts of the immediate Texas coast, with a maximum of 3-5 feet possible.
When Nicholas was named Sunday, it became the 14th named storm of the 2021 season, matching the climatological average number of named storms per season.
Only four other years in the satellite era (back to 1966) have had 14 storms by Sept. 12 and those were 2005, 2011, 2012 and 2020.
Nicholas will be the eighth storm to make landfall on the United States so far this year.
Tim Fitzsimons and Patrick Smith contributed.