Pope Francis apologizes for 'devastating' school abuses in Canada
MASKWACIS, Alberta — Pope Francis has apologized for the Catholic Church's cooperation with Canada's "devastating" policy of Indigenous residential schools, saying the forced assimilation of Native peoples into Christian society destroyed their cultures, severed their families and marginalized generations in ways still being felt today.
"I humbly beg forgiveness for the evil committed by so many Christians against the Indigenous peoples," Francis said near the site of the former Ermineskin Indian Residential School, now largely torn down, on lands of four Cree nations south of Edmonton, Alberta.
The long-awaited apology opened Francis' weeklong "penitential pilgrimage" to Canada, which is meant to help the church on its path of reconciliation with Indigenous peoples and help victims heal.
Francis' words on Monday went beyond his earlier apology for the "deplorable" acts of missionaries and instead took responsibility for the church's institutional cooperation with the "catastrophic" assimilation policy, which Canada's Truth and Reconciliation Commission has said amounted to a "cultural genocide."
The Canadian government has admitted that physical and sexual abuse were rampant in the state-funded Christian schools that operated from the 19th century to the 1970s. Some 150,000 Indigenous children were taken from their families and forced to attend in an effort to isolate them from the influence of their homes, Native languages and cultures and assimilate them into Canada's Christian society.
Francis' six-day trip — which will also include other sites in Alberta, Quebec City and Iqaluit, Nunavut, in the far north — follows meetings he held in the spring at the Vatican with delegations from the First Nations, Metis and Inuit. Those meetings culminated with a historic April 1 apology for the "deplorable" abuses committed by some Catholic missionaries in residential schools.
Thousands of children died from disease, fire and other causes. The discoveries of hundreds of potential burial sites at former schools in the past year has drawn international attention to the legacy of the schools in Canada and their counterparts in the United States.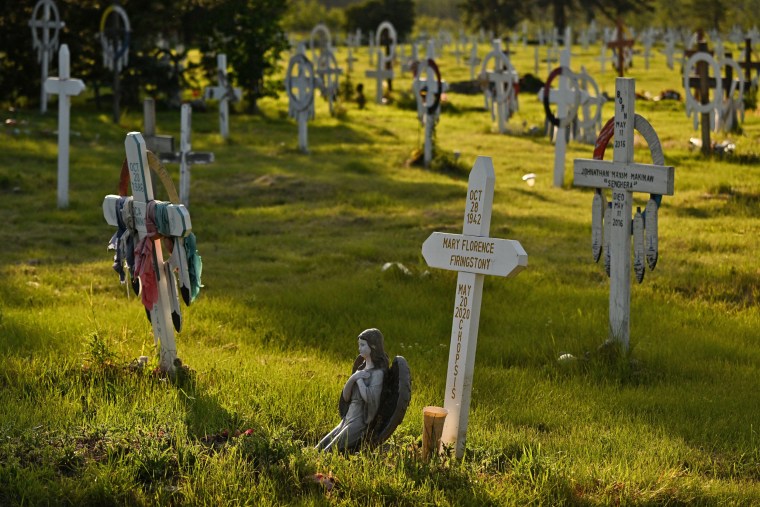 Francis is now following through on a commitment to make that apology on Canadian soil.
Catholics operated a majority of the Canadian schools, while various Protestant denominations operated others in cooperation with the government.
In Maskwacis, the former school where Francis visited has been replaced with a school system operated by the four local Cree nations. The curriculum affirms the Indigenous culture that was once suppressed.
Chief Greg Desjarlais of the Frog Lake First Nation in northern Alberta, a school survivor, said after the pope's arrival Sunday that there are "mixed emotions across this country" over his visit.
"I think today of the young people that didn't make it home and are buried around residential schools," he told a news conference after the airport welcome ceremony. But he expressed optimism that the visit can begin to bring reconciliation.
"I do know when two people have apologized we feel better," he said. "But our people have been through a lot. … Our people have been traumatized. Some of them didn't make it home. Now I hope the world will see why our people are so hurt."